🌸 32-bit cafe spring '23 event 🌸
submissions could include: a seasonal adoptable that folks can grab from your site, a recipe page with your favorite spring recipes (spring-themed cake, anyone?), a page showcasing your favorite ways to celebrate the spring equinox on march 20, or showing off your favorite trees and flowers! for our friends in the southern hemisphere, what about showing your favorite autumn activities or ways that you celebrate autumn in your part of the world?
submissions closed on march 21, 2023. thank you to everyone who submitted to the event! check out the gallery of participants below.
lian
libre.town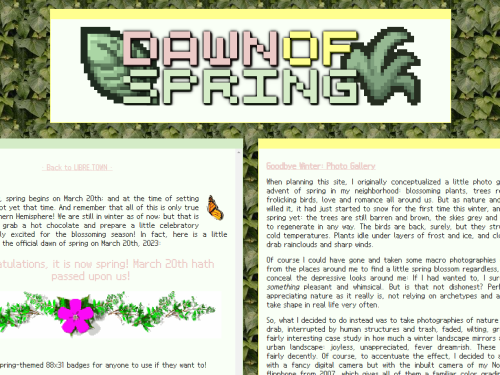 Spring seasonal page complete with a countdown to March 20, little badges, mini recipes, a photo gallery, and a little cute design. :]
jade
glitchlynx.neocities.org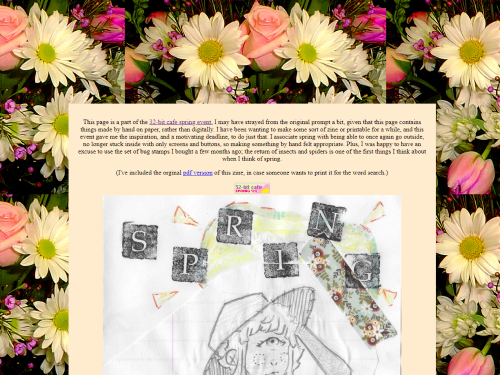 A spring themed zine, focused mainly on the bugs I usually see in the spring.
jmart
the-now-now.neocities.org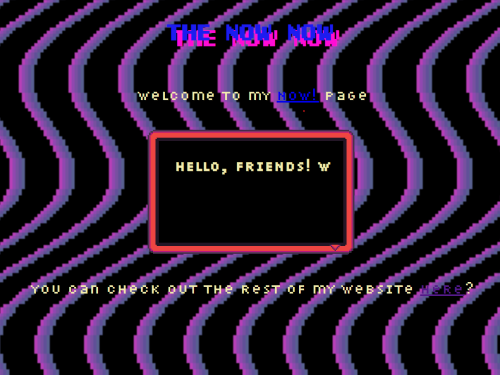 The spring is a very mindful season for me. It stands out because it's nice, but limited time. I made a NOW page for my spring '23 event. It's like an about me page, but designed to be limited time, you delete the old update in favor of the new one. Thank you so much xandra.cc for helping me with getting the animation to work <3 <3 <3 SPRING FACT: The purple I picked for the h1 is Bluebonnet Purple. Bluebonnets are the official flower of Texas that only blooms in the spring.